GOOD FAMILY Doherty-Wolter
'Worm composting'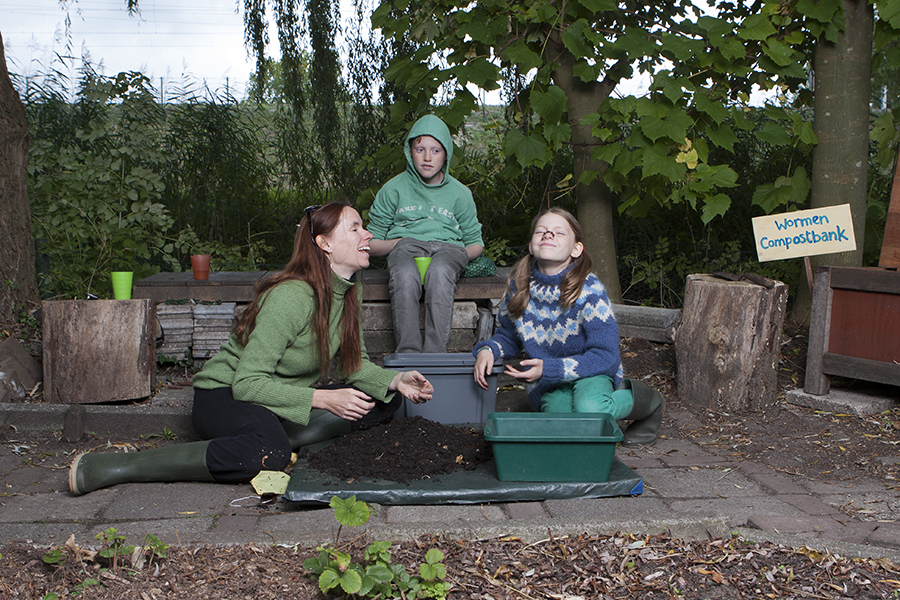 Did you know that worms can transform your food scraps into rich compost? Good Family Doherty-Wolter do. That's why city farmers Ann, Christian, Timo (14), Lukas (12) and Clara (9) in Amsterdam have established their own worm composting system. (Christian and Timo are not in the photo as Christian is at work and Timo at school).
"We have been growing food as a family since the children were born. The kids were watering our tiny strawberry plants and pulling carrots as soon as they could walk. We wanted our kids to grow up with more nature around them and have the chance to get dirty as often as possible. So we taught ourselves to grow food in the city."
Ann, originally from Boston USA, came to Amsterdam in 1992 to work with the environmental organization ASEED (and later for Friends of the Earth International). She and her partner Christian, a furniture maker from Berlin, settled down in a living group on Prinseneiland where their children were born.
"For many years we have shared a volkstuin near the Westerpark with another family. Last year, together with another urban farmer, we started an educational garden called The Curious Finch (De Luistervink) in the same volkstuin."
"We also have rooftop garden where we grow herbs, strawberries and salad greens. For all of these edible garden projects it's important to have a good, local source of compost. So we put all of our kitchen scraps, like avocado peels, coffee grounds, tea bags, banana peels, apple cores and so forth, into our worm bins. The worms help to break down the food by eating it and pooping it out. That worm poop is a magic substance: full of nutrients and an amazing food for your plants."
"We also have a worm bin in our kitchen. If you make sure to create a balanced ecosystem for your worms, you will hardly notice they are there. Worm composting is not difficult, but you do need to keep an eye on the moisture levels and other conditions within the bin."
"The kids have always really liked the worms. They are very helpful when it's time to separate the little worms and eggs from the compost. Clara in particular knows a lot about worm composting, since she used to come to the workshops when she was younger. Sometimes she even gives demonstrations to her friends. She also loves to grow food and help in the garden, but not so much in the winter when it's cold or rainy. She will join again in spring."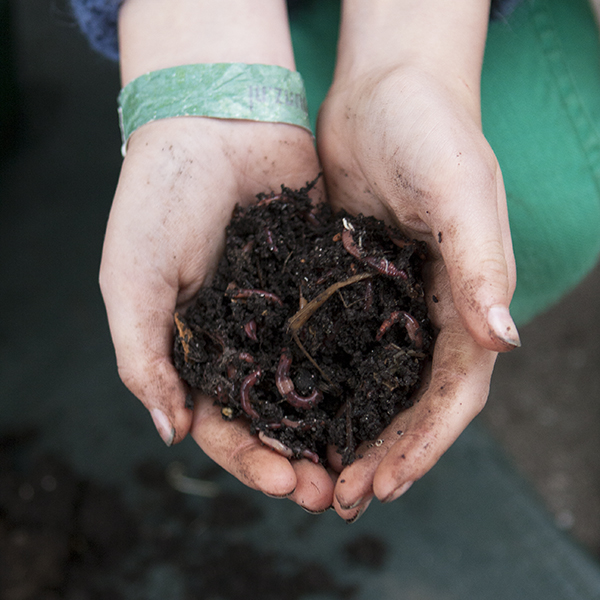 Do you have an advice for other families?
"Start composting with worms, so you can keep your food waste out of the garbage and make rich compost for your plants."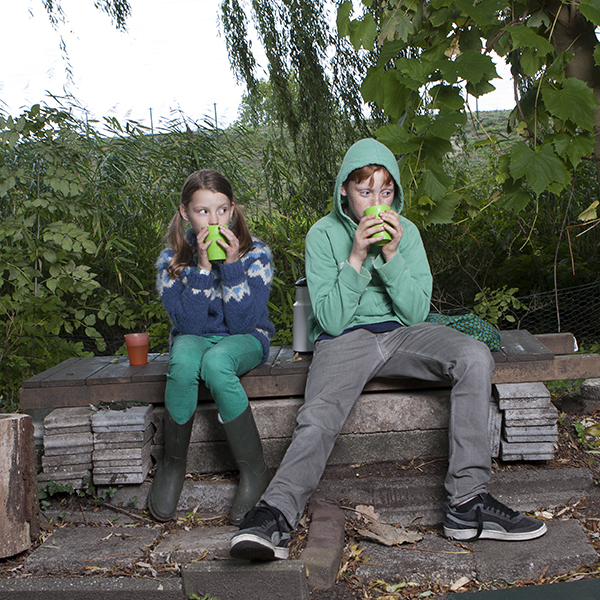 Is there a question you would like to be answered?
"We have a question for the City of Amsterdam. Why isn't there composting on a large scale in Amsterdam? We also believe that there should be more public education on why making compost is important, and how it can be done at home."
Reply via our Facebook page!
Interview: Leontien Aarnoudse
Fotografie: Lotte Rijkes
TIP VAN THE GOOD FAMILY
Ann from Good Family Doherty-Wolter is coordinator of Cityplot Amsterdam, an urban farmer collective that supports people in growing their own organic food on balconies, on windowsills, in gardens, on empty lots, and along streets. Cityplot offers beginners-level workshops including how to compost with worms; how to grow your own herbal tea garden or juice garden; growing edible flowers; how to pickle and preserve your harvest winter wonder crops. Cityplot also organizes bike tours to different community gardens. In 2014 they've started more workshops for families with children. For participation, questions and ideas, please contact: Dit e-mailadres wordt beveiligd tegen spambots. JavaScript dient ingeschakeld te zijn om het te bekijken..
Looking for more information? Please visit: cityplot.org